Invitation_Humanization of Healthcare Chatbots, Sept 21 & 22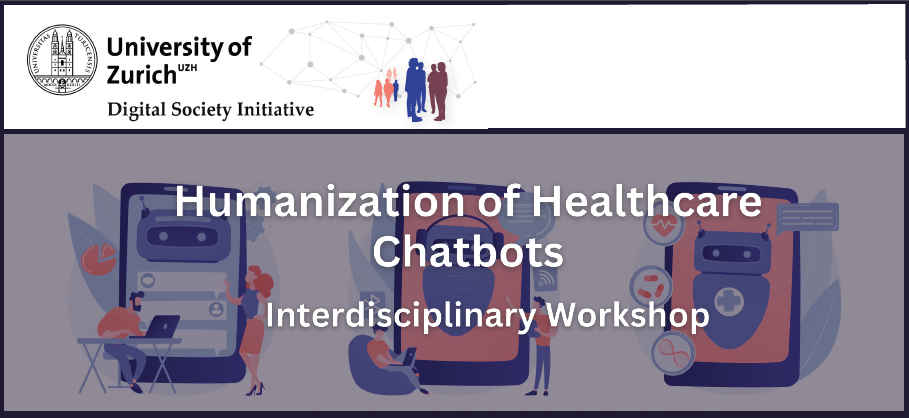 We are very happy to invite you to an interdisciplinary workshop "Humanization of Healthcare Chatbots" organized by the DSI-Ethics Community.
Location: Digital Society Initiative (DSI), University of Zurich, Raemistr. 69, 8001 Zurich, Switzerland
Date: September 21-22, 2023
Registration here
Topics: This workshop focuses on the role of human-like features of healthcare chatbots, the normative conditions regulating chatbot-patients/users interaction, the role of chatbots as agents/actors, and the impact of anthropomorphizing chatbots, e.g., on physicians-patient relationships, trust and information disclosure.
Format: A two-day hybrid workshop with talks, Q & A and hands-on sessions
Preliminary Program
1 Day, 21 September
Morning Session
10: 00 – 10:10     Welcome + Introduction
10:10-10:30:        Sven Nyholm
10:30-10:40         Short Q & A
10:40-11:00         Marcia Nissen
11:00-11:10          Short Q & A
11:10-11:30          Felix Gille
11:30-11:40          Short Q & A
11:40-12:00         Short coffee break
12:00-12:30        Hands-on session
12:30-12:45         Discussion
12:45 – 14:00      Lunch
Afternoon Session
14:00-14:20:         Maximilian Kiener
14:20-14:30          Short Q & A
14:30-14:50          Paulina Lewandowska
14:50-15:00          Short Q & A
15:00-15:20          Maurizio Caon
15:20-15:30          Short Q & A
15:30-16:00          Short coffee break
16:00-16:30          Hands-on session
16:30-16:45          Discussion
16:45                      Small Apéro
19:30                      Dinner with speakers
2. day, 22. September
Morning Session
09:30: 09:50        Stefán Ólafsson
09:50-10:00         Short Q & A
10:00-10:20         Jana Sedlakova
10:20-10:30         Short Q & A
10:30-10:50         Caterina Bérubé
10:50-11:00         Short Q & A
11:00-11:30          Coffee break
11:30-12:00          Oren Asman + Amir Tal (online) + Q & A
12:00-12:30          Hands-on session
12:30-12:45          Conclusion Discussion