Invitation: Ethics of Emotion Computing, Interdisciplinary Workshop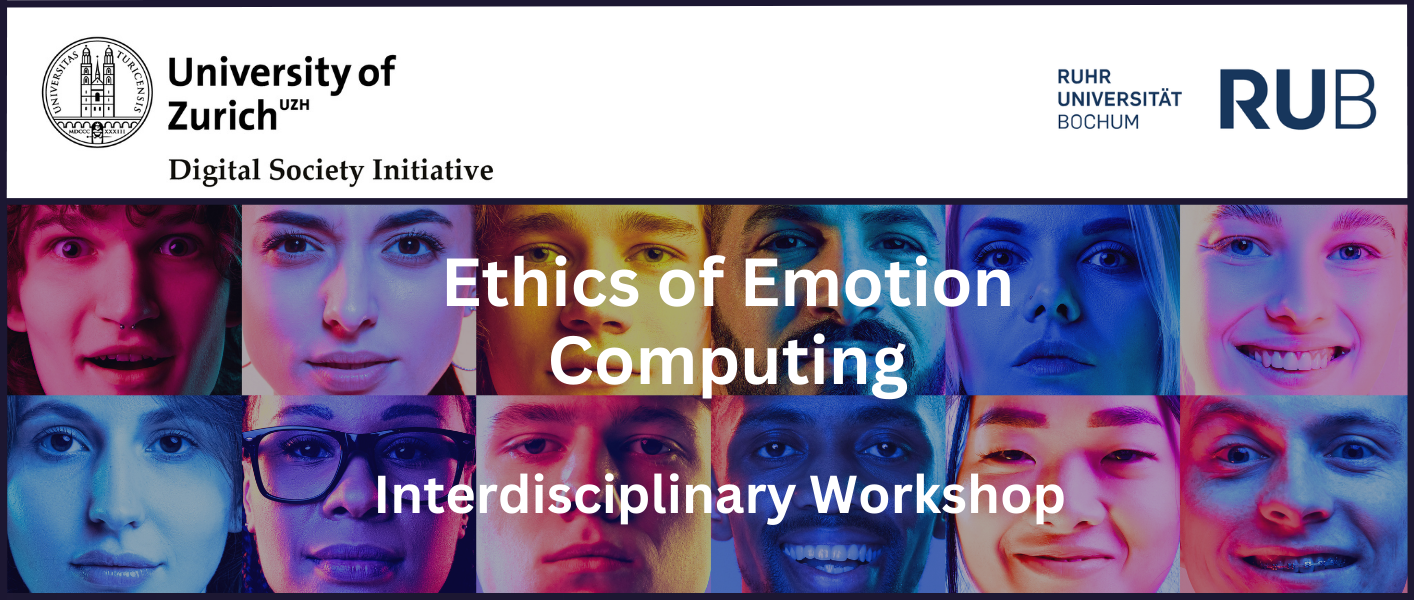 We are very happy to invite you to an interdisciplinary workshop "Ethics of Emotion Computing" organized by the DSI-Ethics Community and Ruhr-University Bochum.
Location: Digital Library Space, University of Zurich, Raemistr. 69, 8001 Zurich, Switzerland
Date: September 18-19, 2023
Please note that the registration is closed. If you are interested in participating online please contact directly: jana.sedlakova@ibme.uzh.ch
Program with abstracts_Ethics of Emotion Computing
Topic: This two-day workshop is focusing on emotion/affective computing. The aim of the workshop is to initiate a discussion among computer scientists, media scientists and philosophers about the core concepts of emotion computing as well as about emerging consequences and effects of applications of emotion computing in order to be finally able to properly assess the field from a normative-ethical and media-historical perspective.
Program
Monday, September 18
3 pm                 Welcome
3:15 – 4:15         Rafael Calvo (computer science, London; via Zoom): Affective computing: Value tensions in
design engineering
4:30 – 5:30        Gabriele Gramelsberger (philosophy, Aachen): Affective Infrastructure. Towards the Naturalisation of the Digital
6:00 – 7:15        Ana Paiva (computer science, Lisbon/Harvard): Feelings can't be ignored: the role of emotions in the communication between humans and AI
7:30                  Apéro riche
Tuesday, September 19
9:00 – 10:00     Eva Weber-Guskar (philosophy, Bochum): Emotion Detection Systems and Emotional Granularity
10:15 – 11:15     Alexander Campolo (media science, Durham): Affect as paradigm: The structure of machine learning problems
11:30 – 12:30     Anna Tuschling (media science, Bochum): Emotional and Affective States as Quasi-Semantics in the history of interactive Computing
12:30 – 02:00     Lunch
2:00 – 3:00       Luke Stark (media science, London, Ontario): Reordering Emotion: Scenes from the History of Affective Computing and Emotion AI
3:30 – 5:00       General discussion with short inputs by Jonas Blatter (philosophy, Bochum), Daniela Wentz (media science, Bochum) and Piera Filippi (philosophy, Zurich)
Relevant links:
https://www.dsi.uzh.ch/de.html
https://www.pe.ruhr-uni-bochum.de/philosophie/i/phil-ethik-emotion/index.html.en
http://ifm.rub.de/institut/personen/tuschling/